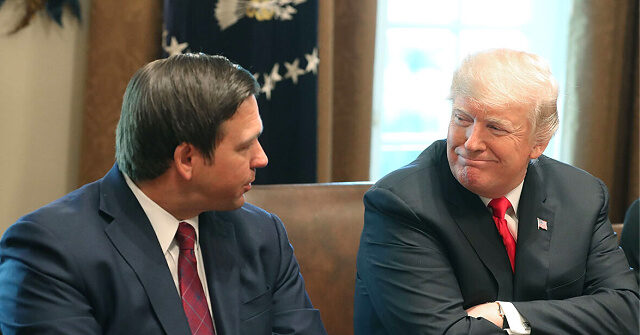 Former President Donald Trump leads Gov. Ron DeSantis (R-FL) in a hypothetical head-to-head Republican primary match-up after a 12-point swing his way in only three weeks, according to a poll.
The Yahoo/YouGov poll released Tuesday shows 47 percent of Republicans would vote for Trump in the head-to-head primary with DeSantis. The Florida governor sits eight points behind with 39 percent of support and 13 percent undecided.
In a YouGov poll conducted between February 2-6, DeSantis led Trump at 45 percent to 41 percent, respectively. The change marks a net 12-point swing to Trump in 21 days, as the current survey is from February 23-27.
Trump also dramatically expanded his lead over a larger primary field in that time. In a scenario with eight other candidates offered to participants, the 45th president took 45 percent of the response in the latest poll, giving him a double-digit lead over DeSantis at 29 percent. He has widened his lead by 14 points compared to the previous survey when he and DeSantis were at 37 percent and 35 percent, respectively, with seven other candidates as options.
2024 National Republican Primary

Trump: 45% (+8 from Feb. 6 poll)
DeSantis: 29% (-6)
Haley: 5%
Pompeo: 3%
Pence: 2%
Cheney: 1%

2 Way:
Trump: 47% (+6 from Feb 6 poll)
DeSantis: 39% (-6)

YouGov | 444 RV | Feb 23-27https://t.co/9jMPKXAVq4

— InteractivePolls (@IAPolls2022) February 28, 2023
Currently, four percent of respondents back former U.N. Ambassador Nikki Haley, who announced her candidacy several weeks ago, while three percent support former Secretary of State Mike Pompeo. Former Vice President Mike Pence sits in fifth place at two percent support, followed by former Rep. Liz Cheney (R-WY) at one percent. No other candidate offered secured one percent.
The poll also gauged a potential rematch between Trump and President Joe Biden in the 2024 general election, finding the 45th president has significant momentum. Of the 1,015 registered voter respondents, 45 percent say they would vote for Trump compared to 43 percent who support Biden. Another seven percent are undecided, although Trump leads with independents, 46 percent to 35 percent. Weeks ago, Biden led Trump 47-41 percent among all registered voters, according to YouGov's survey.
DeSantis also holds a two-point advantage over Biden at 44 percent to 42 percent. Ten percent of voters are undecided in that scenario, and like Trump, DeSantis leads among independents at 44 percent to 32 percent. The previous poll showed him at 43 percent and Biden at 42 percent.
The Republican primary portion of the poll included samples from 444 registered Republican voters and registered voter learners, though the head-to-head scenario between Trump and DeSantis included 443 respondents. The margin of error for the full sample is plus or minus 2.7 percentage points.
Originally Posted at : www.breitbart.com