Hunter Biden plotted in 2019 to betray the family's top financial lieutenant Eric Schwerin amid their crumbling relationship, built upon an off-the-books business arrangement, text messages obtained by Breitbart News from Hunter's laptop reveal.
Hunter's damaged relationship with Schwerin is notable because Schwerin is expected to "soon" provide revealing documents about the Biden family business to Republican House investigators, according to the House Oversight Committee. It is unknown what information he may provide in the wake of his deteriorated relationship with Hunter.
Schwerin is a powerful figure in the Biden family business. He shared bank accounts with Hunter and President Joe Biden and was president of Rosemont Seneca Partners, a fund created by Hunter and several​ associates that created business deals in Russia, Ukraine, China, and Romania. Schwerin also maintained guest lists for White House functions and negotiated the divorce settlement with Hunter's first wife, Kathleen.
Despite Schwerin's close relationship with the family, Hunter's text messages in 2018 begin to show a deep distrust of Schwerin and his involvement in the family's affairs, in which Hunter apparently owed Schwerin money. Their relationship seemingly became so poor that Hunter announced Schwerin was his "worst enemy…And everyone knows it." By 2019, their relationship had deteriorated to the point that Hunter hatched a plot to cut Schwerin out of an ongoing off-the-books business arrangement.
On February 3, 2019, Hunter conspired with fellow Biden family business partners Jeff Cooper and Devon Archer to cut Schwerin out of a then-current Biden family business arrangement and to replace him with Cooper and Archer. It is unknown if the plot was ever carried out.
Cooper, an old friend and partner of the Biden family who flew on Air Force Two to meet Mexican business associates, had a prior interest with Hunter in Eudora Global, which yielded the president's son a 2015 gain of $300,000. Archer, a second longtime business partner of the family, was also an instrumental family business associate until he was sentenced to prison in 2020 for a defrauding scheme.
Hunter, texting Cooper and Archer in a group chat, proposed dividing his current business arrangement with Schwerin into thirds and giving Cooper and Archer each one part, keeping one third for himself. Hunter also noted he could cut Schwerin out of the deal because the current agreement had "no contract or any documentation to the affect [sic]." In the text message, Hunter used the infamous acronym "BD" to name the "Biden family" business:
I won [own] 100% of BD ill sell you and D 33% apiece and we run these deals through the BD. Whomever the broker is now can easily switch his license to our BD. I get someone to replace Eric who isnclaiming 33% with no contract or any documentation to the affect and holding my money from Eudora and other shit as leverage to get me to give allmyequity to him in return for the 33
Months before seeking to cut Schwerin out of the business arrangement, Hunter had made it clear to close confidants that he did not trust Schwerin or his business acumen.
On December 20, 2018, Hunter told his assistant Katie Dodge that Schwerin was his "worst enemy" and whined he owed him "30% of my income" for apparently ten years. The text relates to Hunter's apparent frustration about Schwerin's continued involvement in the family business.
"He is literally my worst enemy and I have no enemies. And everyone knows it," Hunter said, upset about unpaid bills:
And by the way Devon has never not got his piece or Burisma, Eric has never been removed from any accounts and has 30% of my income through the debts he says are 30% his responsibility but I pay %100. Send every bill in any way connected to the business for past 10 years and ask Eric for 33% of the total. For real — final job please. That includes salaries ADP all credit cards -the whole thing. That way I can transfer him ownership of the BD of which he owns 0%
Hunter's frustration with Schwerin was again evident on December 20, 2018, when he blamed him for an inaccurate tax bill. Hunter told Kathleen, his first wife, that his tax bill was not accurate because the "Bill is going off information from Eric that is not accurate at all."
"My tax returns aren't completed," Hunter claimed.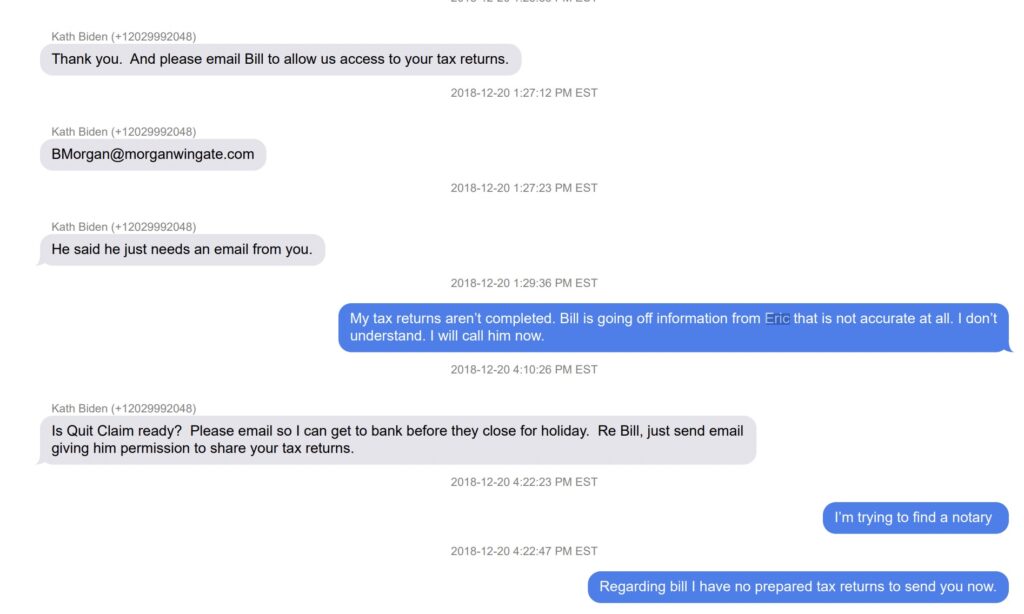 A few days prior, Hunter accused Schwerin of leaving him with a tax bill "hanging over my business." Texting Hallie Biden, his brother's widow turned his own lover, Hunter noted on December 14, 2018, that his financial position was poor amid "a tax bill that Eric left hanging over my business," even as Joe Biden was "running for president":
You're right Hallie and I find myself (because I've chosen to alienate all my friends and family and employees and you and the kids and my kids etc..) very alone in dealing with rebuilding an income that can support an enormous alimony and my kids costs and myself, dealing with the aftermath of the abduction and likely assassination (that's what NYT's suspects) of my business partner the richest man in the world, the arrest and conviction of my client the chief of intelligence of the people's republic of China by the US government, the retaliation of the Chinese in the ouster and arrest of US suspected CIA operatives inside China, my suspected involvement in brokering a deal with Vladimir Putin directly for the largest sale of oil gas assets inside Russia to China, a tax bill that Eric left hanging over my business and … And Dads running for president

Hunter's outbursts of frustration with Eric were not confined to his inner circle. Hunter even cursed Schwerin in a private text to Andrew Schwartz, the chief communications officer at the Center for Strategic and International Studies (CSIS).
"Had lunch with Eric yesterday and told him that your dad can count on me. Eric said he would put me in touch with your dad's comms people," Schwartz told Hunter on November 30, 2018.
Hunter replied, "Fuck Eric … seriously … but yes, do anything you want to do if…"

Hunter's broken relationship with Eric comes as the House Oversight Committee in February requested documents and communications from Hunter, James Biden, and Schwerin. While Hunter has refused to comply, Schwerin's attorney has told the committee Schwerin will cooperate with Comer's request.
"We have received correspondence from the attorneys representing Hunter Biden and James Biden. Oversight Committee staff will be in communication with them about Chairman Comer's request," a House Oversight committee spokesperson told Breitbart News on Wednesday. "We are also in contact with Eric Schwerin's attorney and expect him to start producing documents to the Oversight Committee soon."
Wednesday was the deadline set by the committee for Schwerin and James and Hunter Biden to comply with demands to disclose a host of both classified and unclassified documents, records, and communications between business associates and family members, including Joe Biden. The records request included the following people and entities:
Joseph Robinette Biden Jr.;
Robert Hunter Biden or any known company or entity associated with Robert Hunter Biden, including Rosemont Seneca, Owasco, Hudson West, Bohai Harvest, Skaneateles, Burisma, Eudora, and any CEFC company or entity, including the CEFC China Energy Company;
James Biden or the Lion Hall Group LLC;
Sara Biden;
Catherine Dodge;
Joan Mayer or Joan Peugh;
Devon Archer;
Robert Walker;
Vuk Jeremic; and
Payments to Lunden Roberts from any Rosemont Seneca bank account.
It is unclear what information Schwerin will convey to the committee as it investigates the Biden family for nine potential violations, including money laundering and wire fraud.
As of Wednesday, Republican probes have been stonewalled by Hunter, the Treasury Department, and former FBI "point man" Timothy Thibault, who allegedly "improperly" "shut down" a probe into Hunter's laptop that is likely unrelated to the ongoing criminal probe concerning possible tax fraud by the president's son. In addition, the Treasury Department denied the Committee's request in January to disclose 150 suspicious reports flagged by U.S. banks concerning Biden family business transactions, causing Comer to threaten a subpoena.
In 2018 and 2020, Breitbart Senior Contributor and Government Accountability Institute President Peter Schweizer published Secret Empires and Profiles in Corruption. Each book hit #1 on the New York Times bestseller list and exposed how Hunter Biden and Joe Biden flew aboard Air Force Two in 2013 to China before Hunter's firm inked a $1.5 billion deal with a subsidiary of the Chinese government's Bank of China less than two weeks after the trip. Schweizer's work also uncovered the Biden family's other vast and lucrative foreign deals and cronyism.
Breitbart Political Editor Emma-Jo Morris's investigative work at the New York Post on the Hunter Biden "laptop from Hell" also captured international headlines when she, along with Miranda Devine, revealed that Joe Biden was intimately involved in Hunter's businesses, appearing even to have a 10 percent stake in a company the scion formed with officials at the highest levels of the Chinese Communist Party.
Follow Wendell Husebø on Twitter @WendellHusebø. He is the author of Politics of Slave Morality.
Originally Posted at : www.breitbart.com