by Peter Caddle, Breitbart: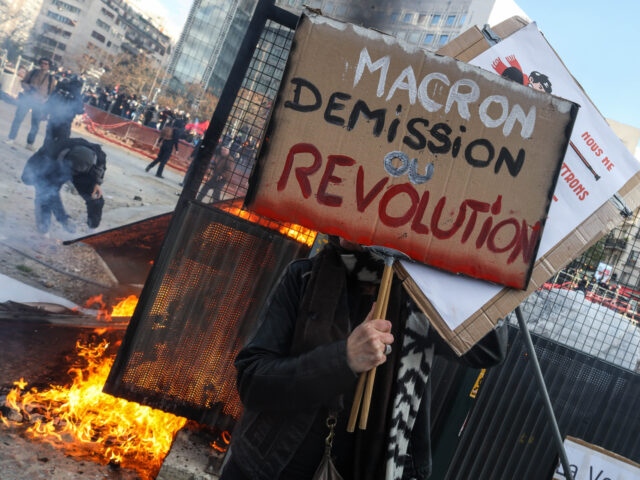 Over half a million people took to the streets of France on Thursday to protest Emmanuel Macron's government.
Well over 500,000 took place on the eleventh day of protest against the Macron government on Thursday, police officials have confirmed.
TRUTH LIVES on at https://sgtreport.tv/
The demonstrations are mostly concerned with unpopular pension reforms pushed through by the government, which utilised a loophole within the French constitution to implement an increase to the pension age without the approval of parliament.
This has prompted a huge degree of anger in the country, with political opposition on both the left and right up in arms about the current ordeal.
According to a report by Le Figaro, police estimate that a total of 570,000 people took part in Thursday's protests, though organisations involved in the protest put the figure at a much larger 2 million.
As has been routine for these demonstrations at this stage, a number of the marches devolved into violence, with individuals setting fire to various objects and edifices while others clashed with police.
The most notable casualty of yesterday's clashes was La Rotonde — a famous Paris restaurant known for being a haunt of President Macron — which had part of its awning briefly set on fire, prompting waiters to douse the flames with buckets of water to prevent it from spreading.
While Macron is visiting China, protesters set fire to his favorite restaurant in Paris.

At the Rotunda restaurant, Macron celebrated his victory in the 2017 elections and still periodically visits it. pic.twitter.com/MNk3pEHfMD

— Spriter (@Spriter99880) April 6, 2023
Originally Posted at www.sgtreport.com