This article was originally published by Tyler Durden at ZeroHedge.
(Update: 1055ET): Treasury Secretary Janet Yellen said on Wednesday that signs of market stress are beginning to emerge as the X-date draws closer, however, the Biden administration is not preparing for a default, and is instead focusing on completing a debt-limit deal.
"We are committed to not having missed payments and raising the debt ceiling," Yellen said at a video conference event in London. "We're not involved in planning for what happens if there's a default," she said when asked if Treasury was engaged with major banks to map out a default scenario, Bloomberg reports.
"It's highly likely that we would run out of resources to meet all the government's obligations in early June and possibly as early as June 1," she told the conference. "We no longer see very much likelihood that our resources will enable us to get to the middle or end of June."
Meanwhile, House Speaker Kevin McCarthy will provide an update on negotiations at 11:45 am ET.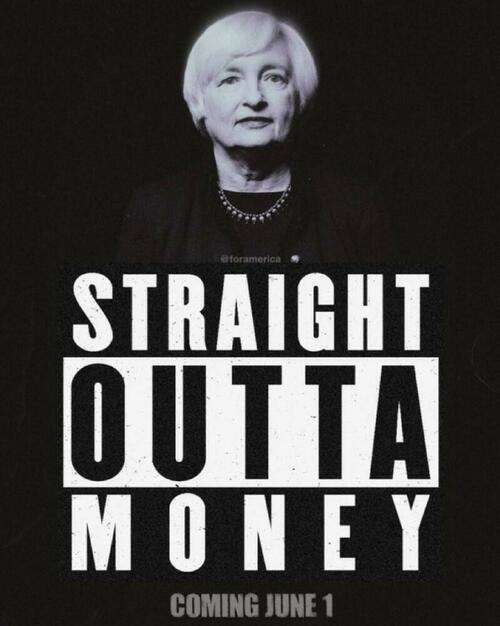 * * *
With (arguably) just eight days to go before the US government enters potential default territory on more than $31 trillion in debt, the status of negotiations between the White House and members of the House GOP's negotiating team – Reps. Patrick McHenry (R-NC) and Garret Graves (R-LA) are telling allies on Capitol Hill that talks have oscillated between positive and totally crumbling.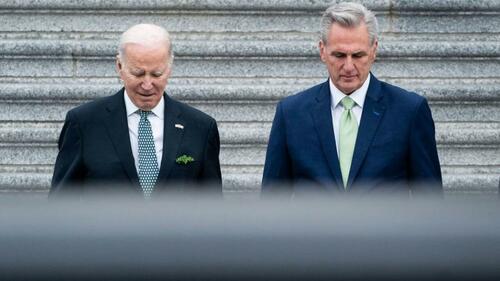 "There is a significant gap between where we are and where they are on finances… and unless and until the White House recognizes that this is a spending problem, we're going to continue to have a significant gap," Graves said on Tuesday, Punchbowl News reports.
Speaker Kevin McCarthy and his negotiators repeatedly have warned the White House that a deal won't be possible unless they agree to cut spending next year.

The White House, for its part, has tried to secure some Democratic wins without success. Administration officials looked to close tax loopholes and broaden prescription drug price negotiations for Medicare, but they were rebuffed by Republicans.

White House officials also offered a spending freeze at FY2023 levels. McCarthy said that's not a compromise he's interested in.
The GOP negotiators are pinning the blame directly on the White House for not empowering Democrat negotiators Steve Ricchetti – a Biden counselor, and OMB Director Shalanda Young.
"The talents of the people that the administration sent in the room, they know how to do this. If they have the constraints from the administration and the directive that you can't spend less — that's coming from the top level of the White House. And if they're making that as a play call, they're completely misreading the situation in a very dangerous way," said McHenry.
The central pillar of the debt ceiling debate is shaping up to be "discretionary spending" – the amount of the US's roughly $6 trillion annual budget that is set by Congress. Cuts to programs that constitute most of the US budget – Social Security and Medicare – are already off the table, however, a range of other military and domestic items are subject to reductions.
In 2022, discretionary spending reached $1.7 trillion, accounting for 27% of the overall $6.27 trillion spent, according to federal figures.

Military spending typically accounts for roughly half of that total, though the amount varies from year to year.

The other half is devoted to domestic programs like law enforcement, transportation, housing and scientific research.

Discretionary spending as a share of U.S. gross domestic product peaked in the late 1970s, and cuts have served as the backbone for several landmark budget deals since the 1980s. –Reuters
Biden and the Democrats have offered to keep discretionary spending flat from the current 2023 fiscal year, along with a cap in spending in future years. House Republicans, meanwhile, passed a plan last month which would cap growth at 1% per year for a decade, saving $3.2 trillion. According to GOP negotiators, they won't accept any deal unless it results in the government spending less than it did last year – ideally cutting things to 2022 levels.
Republicans want spending caps for six years, while the White House only wants two.
Right now, Social Security and Medicare account for roughly 37% of current federal spending, with the former projected to increase by 67% by 2032, and Medicare nearly doubling in cost over the same period. Because of this, deep cuts will be required in other areas of the budget.
The debt ceiling debate has spooked European markets, with the Stoxx 600 index down 1.8% at 2 p.m. London time and nearly all sectors down over 1%. Autos, banks, insurance and travel stocks all shed over 2%, CNBC reports. And while the impasse in Washington DC continues, US Treasury Secretary has warned lawmakers that it's "highly likely" that the so-called "X-date" for default will happen in early June.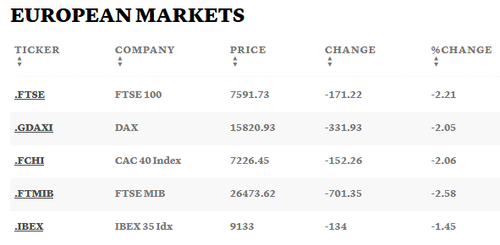 Meanwhile, Asia-Pacific shares followed Europe, and the US market isn't looking great out of the gate on Wednesday – with the Dow Jones Industrial Average pulling back by at least 229 points (0.7%), the S&P down 0.8% and the Nasdaq shedding 0.9%.
Even if Washington officials raise the debt ceiling, markets could suffer as the impact likely removes liquidity from broader capital markets, said Bill Merz, head of capital markets research at U.S. Bank Wealth Management. That's because the Treasury will need to issue a lot of debt to replenish its general account, he said.

"Especially more recently, [that] has really overlapped with, or it has correlated with, S&P 500 in general stock performance," Merz added. –CNBC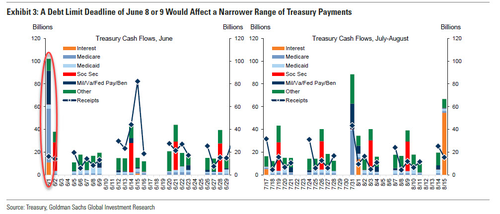 Looking at the spread between the May 30th t-bill yield and the June 1st yield – yields the following: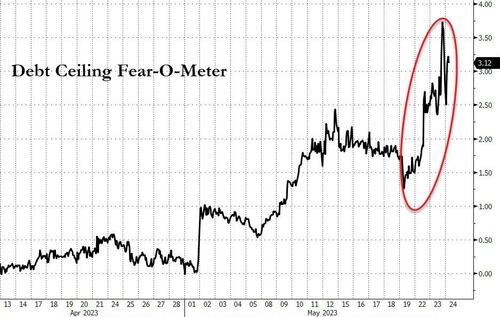 At the end of the day, as we said two weeks ago…
Instead of all the breathless apocalyptic commentary on a US default, can we just agree on how much stocks have to drop to get a deal done in Congress

— zerohedge (@zerohedge) May 11, 2023
Originally Posted at www.shtfplan.com
closing question, who do you Support for U.S. President in 2024 please take our poll and let us know at this LINK