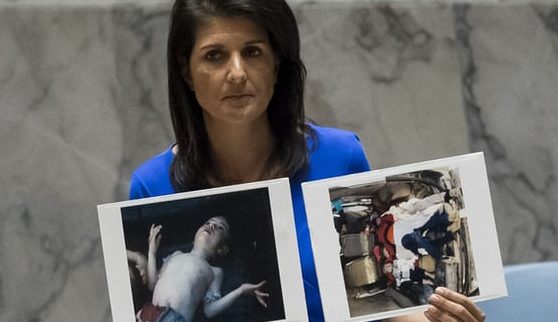 On Sunday, ruling class member Nikki Haley said that China "has been preparing for war with us for decades." The former US ambassador to the United Nations claims China's military buildup is a cause for concern.
"If you look at the military situation, they now have the largest naval fleet in the world," Haley said on "Fox News Sunday according to a report by The New York Post." "They have 340 ships, we have 293. They're going to have 400 In two years, we won't even have 350 in two decades. They have started developing hypersonic missiles. We're just now getting started."
It sounds like she's warning that not only are we going to war with China, but that they will win handily as well. "They are modernizing their military, our military's taking gender pronoun classes," she said. "Look at what they're doing on cyber, artificial intelligence, space — they're ahead of us."
Vaccine Virtue Signaling And The Cult Of Woke
Haley, who rolled out a proposal to confront China last week, warned that China's military has been growing stronger amid U.S. complacency. The growth appears to be unprecedented. She also described China as an "enemy" of the U.S.
During a speech last week to unveil her China policy, she said that China is "much more than a mere 'competitor' — Communist China is an enemy." Haley added that Beijing is the "most dangerous foreign threat we've faced since the Second World War" and proposed limiting trade relations with China.
It's an interesting plan considering sanctions on Russia are failing epically.
Russia "Weaponizes" Natural Gas Until "Sanctions Are LIfted"
Other proposals Haley floated include tightening restrictions on Chinese investments in the US and shoring up America's defense capabilities.
"The way we have to deal with China is [to] not look at it tomorrow, because if we keep waiting to deal with them tomorrow, they will deal with us today," she warned on "Fox News Sunday."
The truth hurts, @SpoxCHNinUS.

If the Chinese Communists stopped sending fentanyl across our border, robbing our businesses, spying on us, and militarily threatening our friends, then we would have a much better relationship. https://t.co/xslXUWyZBG

— Nikki Haley (@NikkiHaley) June 28, 2023
Haley is hoping to be the next president ruler of the corporation of the United States, if the (s)election goes her way.
Originally Posted at www.shtfplan.com
closing question, who do you Support for U.S. President in 2024 please take our poll and let us know at this LINK