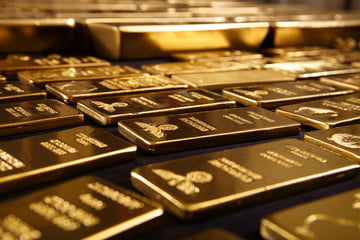 BRICS (short for Brazil, Russia, India, China, and South Africa), a coalition of nations opposed to NATO (North Atlantic Treaty Organization) and its empirical global dominance, has introduced a gold-backed current. This will be a major challenge to the United States dollar hegemony.
Russia and China have been working to undermine the dollar for some time, especially in light of sanctions and tariffs placed on them. There's always a work around when the ruling classes try to control each other. But now, it is official.
There You Go – It's Official

'BRICS planning to introduce new trading currency backed by gold at August summit'

'Gold standard will be a great benefit to strengthening single currency'

'41 countries have applied for BRICS-membership'

Source: RT / Russian Embassy pic.twitter.com/zmqOKiXlsa

— Willem Middelkoop (@wmiddelkoop) July 7, 2023
According to Quoth The Raven, the images plastered all over RT this weekend had headlines like "New Money, New World" and "Gold Standard Will Be Of Great Benefit To Strengthening New Singly Currency".
"The official announcement is expected to be made during the BRICS summit in August in South Africa," Kitco reported over the weekend.

"At first glance, a new transaction unit, backed by gold, sounds like good money – and it could be, first and foremost, a major challenge to the US dollar's hegemony," Thorsten Polleit, chief economist at Degussa, said. –Quoth The Raven.
BRICS is set to introduce a new currency backed by gold, in contrast to the credit-backed US dollar, with the decision coming a month ahead of the bloc's summit in Johannesburg. With the growing initiative, more and more countries are lining-up to join the group. pic.twitter.com/U5ExGv4IE3

— RT (@RT_com) July 5, 2023
Polliet continued: "For making the new currency as good as gold, a truly sound currency, it must be convertible into gold on demand. I am not sure whether this is what Brazil, Russia, India, China, and South Africa have in mind. Using gold as money, the unit of account would be a true game changer, no doubt about it. It could lead to a sharp devaluation of many fiat currencies vis-à-vis the yellow metal (including the BRICS fiat currencies), and it could catapult up goods prices in terms of fiat currencies. It could be a shock to the global fiat money system. I am not sure that this is what the BRICS wish to achieve."
The official announcement of the new currency is expected in August during the BRICS summit in South Africa
Originally Posted at www.shtfplan.com
closing question, who do you Support for U.S. President in 2024 please take our poll and let us know at this LINK