by Chris Menahan, Information Liberation:
Proud Boys member Ethan Nordean, aka "Rufio Panman," was sentenced to 18 years in prison on Friday for aiding in the storming of the Capitol building on Jan 6.
Judge Tim Kelly applied a terrorism enhancement against Nordean to extend his sentence because he allegedly helped push over a small fence on Capitol grounds.
TRUTH LIVES on at https://sgtreport.tv/
… Through Cooney the govt introduced additional video of breach #2—the dismantling of a low, black metal fence on the lower west plaza. This video highlights Nordean & def Joe Biggs right at the fence as it's destroyed. …
/3 pic.twitter.com/kcDjrJMNX2

— Roger Parloff (@rparloff) February 7, 2023
… This excerpt, moments after breach 2, highlights Biggs and def Zach Rehl (camo hat) striding toward the next police line. …
/4 pic.twitter.com/fygCiNttUM

— Roger Parloff (@rparloff) February 7, 2023
Proud Boys member Ethan Nordean, of WA state, was sentenced today to 18 years in federal prison over the Jan. 6 riot. In 2018, Nordean went viral for knocking out an #Antifa member who was beating people with a baton in a brawl in downtown Portland, Ore. pic.twitter.com/KA0xh6Zjv7

— Andy Ngô 🏳️‍🌈 (@MrAndyNgo) September 1, 2023
His lawyers argued that pushing over a fence should not constitute terrorism but Kelly disagreed.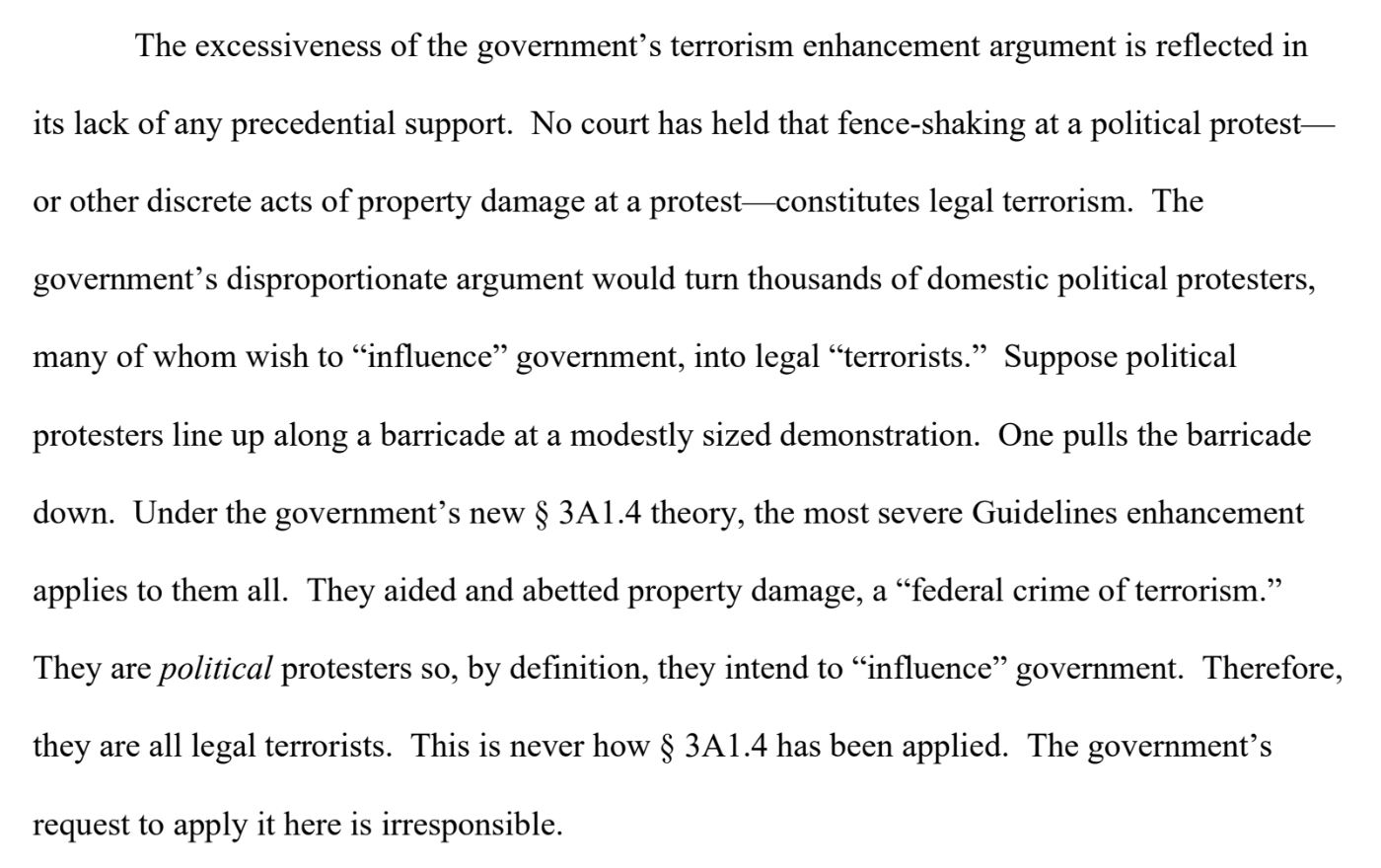 From the AP, "Proud Boy convicted of helping spearhead Capitol attack ties Jan. 6 sentence record with 18 years":
[Ethan Nordean] was one of two Proud Boys sentenced Friday. Dominic Pezzola was convicted of smashing a window at the U.S. Capitol in the building's first breach on Jan. 6, 2021. He defiantly raised a fist and declared "Trump won!" as he walked out of the courtroom after being sentenced to 10 years in prison, also among the longest sentences in the Jan. 6 attack.

The 18-year record for a Jan. 6 sentence was set by Stewart Rhodes, founder of another far-right extremist group the Oath Keepers. Members of both groups were convicted separately of seditious conspiracy, a rarely brought Civil War-era offense.

The highest ranking Proud Boy convicted after a monthslong trial earlier this year, Proud Boys leader Enrique Tarrio, is scheduled to be sentenced Tuesday.

Prosecutors said Nordean's words and online posting grew increasingly violent leading up to Jan. 6. On that day, he led a group of nearly 200 men toward the Capitol, then moved to the front of the mob and helped tear down a fence, allowing rioters to pour onto the grounds and confront police, according to court documents. Prosecutors had asked for a 27-year sentence.

Defense attorneys have argued there was no plan to storm the Capitol that day and pushed back against the idea that Nordean tore down the fence or that his rhetoric was specifically about Jan. 6. They asked for less than two years.

[…] The sentence was handed down by U.S. District Judge Timothy Kelly, a Trump appointee who also sentenced Pezzola earlier in the day and applied a terrorism enhancement in both cases.

Pezzola, 46, took a police officer's riot shield and used it to smash the window, allowing rioters to make the first breach into the Capitol, and he later filmed a "celebratory video" with a cigar inside, prosecutors said. He was a recent Proud Boys recruit, however, and a jury acquitted him of seditious conspiracy. He was convicted of other serious charges and prosecutors had asked for 20 years in prison.
As I reported yesterday, Joe Biggs, who got 17 years in prison, was similarly accused of fence-pushing terrorism.
Read More @ InformationLiberation.com
Originally Posted at www.sgtreport.com