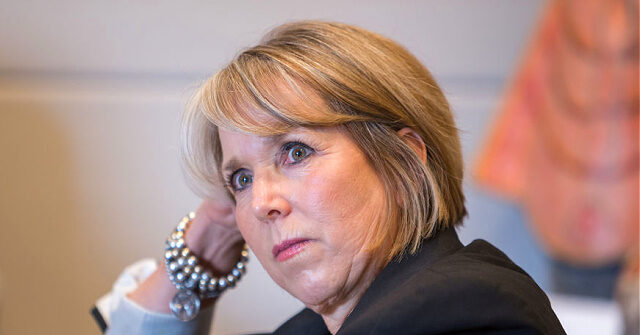 New Mexico Gov. Michelle Lujan Grisham (D) is facing growing backlash, including a call for her impeachment, following her September 7, 2023, executive order banning concealed carry for self-defense in cities like Albuquerque.
Breitbart News reported that the governor's order took effect September 8, 2023, and lasts 30 days, after which Lujan Grisham made clear she will revisit the issue and may possibly extend the ban.
The governor used the order, which bans open and concealed carry–even for licensed concealed carriers–to criticize the levels of gun violence in Albuquerque, particularly referencing the deaths of children. She did not say that licensed concealed carriers, who carry for self-defense, had caused these deaths.
New Mexico state rep. John Block (R) responded to the order by calling for the governor's impeachment on X: "Impeach and remove Lujan Grisham. We even have Elon behind us on this!"
Benalillo County Sheriff John Allen responded to Lujan Grisham's order by making clear he has reservations about enforcing it, as he believes it violates the constitution:
Governor Michelle Lujan Grisham issued an emergency order temporarily suspending open and concealed carry laws in Albuquerque and throughout Bernalillo County for the next 30 days. This move has been positioned as a response to the alarming and tragic rise in gun violence, particularly the heart-wrenching death of an 11-year-old boy this past week.

First and foremost, every lost life is a tragedy, and the well-being of our community is of paramount concern to the Bernalillo County Sheriff's Office. We share in the collective grief and urgency to address this issue.

However, as the elected Sheriff, I have reservations regarding this order. While I understand and appreciate the urgency, the temporary ban challenges the foundation of our Constitution, which I swore an oath to uphold. I am wary of placing my deputies in positions that could lead to civil liability conflicts, as well as the potential risks posed by prohibiting law-abiding citizens from their constitutional right to self-defense.
The Heritage Foundation's Amy Swearer commented on the governor's order as well:
This is completely unconstitutional. It's also just logically nuts. Concealed carry permit holders aren't the ones driving gun crime, and now you're telling actual criminals that they have free reign because their victims can't be armed.https://t.co/UlrxcCFVG4

— Amy Swearer (@AmySwearer) September 9, 2023
The Associated Press pointed out that Albuquerque police chief Harold Medina responded to the governor's order by making clear he will not enforce it.
WATCH: AWR Hawkins Explains the Value of Concealed Carry Permits
awhawkins
AWR Hawkins is an award-winning Second Amendment columnist for Breitbart News and the writer/curator of Down Range with AWR Hawkins, a weekly newsletter focused on all things Second Amendment, also for Breitbart News. He is the political analyst for Armed American Radio and a Turning Point USA Ambassador. He was a Visiting Fellow at the Russell Kirk Center for Cultural Renewal in 2010, a speaker at the 2023 Western Conservative Summit, and he holds a Ph.D. in Military History, with a focus on the Vietnam War (brown water navy), U.S. Navy since Inception, the Civil War, and Early Modern Europe. Follow him on Instagram: @awr_hawkins. You can sign up to get Down Range at breitbart.com/downrange. Reach him directly at awrhawkins@breitbart.com.
Originally Posted at : www.breitbart.com