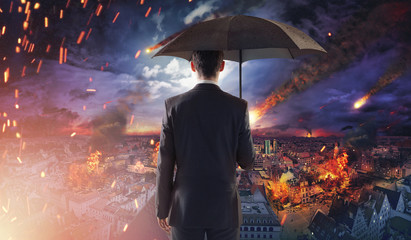 This article was originally published by Michael Snyder at The Economic Collapse Blog.
You have got to admit that 2023 has been a really wild year. Donald Trump has been indicted four times (an all-time record for those who have served in the White House), our proxy war with Russia seems to get even more intense with each passing month, economic turmoil has been a constant theme, and it seems like we have had a major natural disaster somewhere in this country almost every week. In fact, with more than three months to go, we have already set a brand new all-time record for the most billion-dollar disasters in a single calendar year…
From storms to wildfires, it's already been a record catastrophic year for weather and climate disasters across the nation, and we've still got nearly four months to go.

As of Monday, the U.S. has endured a whopping 23 separate weather and climate disasters that have each led to at least $1 billion in damage, the National Oceanic and Atmospheric Administration said Monday.

That breaks the record of 22 set in 2020.
Some people think that I am exaggerating when I write about the nightmarish disasters that are pummeling our planet one after another.
But I am not exaggerating at all.
I am just reporting the facts.
And now we may have another billion dollar disaster to add to the list, because it appears that Hurricane Lee may hit the state of Maine…
Latest projections appear to show that the growing Hurricane Lee is bearing down on Maine and could impact the New England-area in the very early hours of Sunday.

As of Wednesday, the storm has triggered a tropical storm watch in Bermuda, and is now less than 500 miles from the island nation, bringing with it winds of 155 mph, according to the National Hurricane Center.

The storm continues to grow as it moves out of the Caribbean, with its Category 3 winds being felt up to 125 miles from its center and Tropical Storm winds being felt up to 240 miles away, that's expected to increase to 300 miles by the weekend.
Switching gears, car insurance premiums have risen to a brand new all-time record high, and over the past year the rate of increase has been the fastest since 1976…
Across the United States, the cost of car insurance is up 19% compared to a year ago, according to August's Consumer Price Index report released on Wednesday. That's the biggest annual increase since 1976.

But in Florida, where extreme weather episodes are increasingly more prevalent and destructive, the cost is hitting even harder. That's because insurance companies have to cover more claims as a result of these events, leaving them with higher losses. To compensate, they're raising rates — or, in some cases, pulling out of states that are prone to extreme weather — according to Insurify, an insurance comparison website.
As I discussed yesterday, the cost of living has become incredibly oppressive.
But they want us to believe that inflation is under control.
No, it is not.
Americans are increasingly turning to debt just to make it from month to month, and this has pushed total credit card debt and total household debt to new record levels…
By some measures, Americans have never been more in the red.

In the second quarter of 2023, total credit card debt surpassed $1 trillion for the first time ever, which helped bring total household debt to $17.06 trillion, also a fresh record, according to the New York Federal Reserve.
Of course, our national debt is constantly setting new records.
At this point, it exceeds 32 trillion dollars, and we are being warned that interest payments on that debt will reach a staggering 1.4 trillion dollars a year by 2032…
The rapid increase in interest rates over the past year could cause some collateral damage to the U.S. government's finances, because as interest rates rise, so will the federal government's borrowing costs on its $32.68 trillion in debt.

Interest payments on the national debt are projected to be the fastest-growing part of the federal budget over the next three decades, according to the latest estimates from the Congressional Budget Office (CBO).

Thanks to a combination of high inflation, rising interest rates and unrelenting growth in the national debt, interest payments are expected to triple from nearly $475 billion in fiscal year 2022 to a stunning $1.4 trillion in 2032.
Our politicians in Washington are doing such a great job, aren't they?
But even though our federal government is spending so much money, the national homelessness crisis just continues to get even worse.
As I mentioned yesterday, so far this year we have seen the biggest jump in homelessness ever recorded…
The United States has seen the biggest ever spike in homeless people living on the streets – as preliminary figures showed a record 11 percent increase in one year.

There are nearly 600,000 rough sleepers across cities and towns in America, and the jump from 2022 to 2023 so far is the highest since the government started tracking the data in 2007, according to the WSJ.

Places like Oakland and San Francisco in California have become hotbeds for homelessness, as people living on the streets are like 'drug tourists' who arrive to have easy access to narcotics.
Meanwhile, the level of violence just continues to go up.
Just check out these new numbers that were just released by the federal government…
The number of school shootings in the U.S. just hit a record high.

Again.

There were 188 shootings with casualties at public and private elementary schools during the 2021-22 school year, according to new federal data. About two-thirds of them caused injuries. Fifty-seven led to deaths.

It's the second year in a row that the number of shootings with casualties hit an all-time peak in American schools.
Abortion numbers are also setting new records all over the nation.
In fact, some states that border other states that have implemented restrictions on abortion have actually seen the number of abortions double or even triple…
New Mexico, which borders Oklahoma, and Wyoming, which borders three other states, saw the biggest percentage increases, with more than three times as many abortions provided in the first half of 2023 compared to 2020.

Kansas and South Carolina also saw their number of abortions double in that time.
We should all be deeply saddened by what has happened to this country.
In this current environment, literally anything goes, and that is especially true for our politicians.
This week, we learned that a prominent Democratic candidate for the Virginia legislature has been performing sex acts with her husband on the Internet for money…
The Washington Post reported Monday that it had viewed videos in which Gibson urged viewers to pay her and her husband with "tips" for performing certain sexual acts.

Gibson — who offered no new public statements on Tuesday — is in a high-profile contest with Republican David Owen in House District 57, which is based in western Henrico and includes part of Goochland County.
Once upon a time, this would have instantly disqualified someone from ever running for office.
But some Democrats are already stepping up to defend her…
But state Sen. L. Louise Lucas, a leading Democratic lawmaker in Virginia, quickly came to her defense, calling on voters to "make this the biggest fundraising day of (Gibson's) campaign." Many women voters retweeted Lucas with a link to donate to Gibson's campaign.

"Anybody who looks at this knows it's a hit job," said Amanda Linton, a 45-year-old defense contractor who donated $25 to Gibson's campaign after reading about the videos. Linton said she plans to donate another $100 to Gibson's campaign even though she can't vote for her because she lives outside her district.
Are you kidding me?
This is how far we have fallen.
If she stays in the race, there is a good chance that she could win.
America has become rotten to the core, and if we stay on this path things will not end well for us.
But even though many of us have been sounding the alarm for years, most Americans still do not want to listen.
Michael's new book entitled "End Times" is now available in paperback and for the Kindle on Amazon.com, and you can check out his new Substack newsletter right here.
About the Author: My name is Michael and my brand new book entitled "End Times" is now available on Amazon.com. In addition to the new book I have written six other books that are available on Amazon.com including "7 Year Apocalypse", "Lost Prophecies Of The Future Of America", "The Beginning Of The End", and "Living A Life That Really Matters". (#CommissionsEarned) When you purchase any of these books you help to support the work that I am doing, and one way that you can really help is by sending copies as gifts to family and friends. Time is short, and I need help getting these warnings into the hands of as many people as possible. I have also started a brand new Substack newsletter, and I encourage you to subscribe so that you won't miss any of my articles. I have published thousands of articles on The Economic Collapse Blog, End Of The American Dream, and The Most Important News, and the articles that I publish on those sites are republished on dozens of other prominent websites all over the globe. I always freely and happily allow others to republish my articles on their own websites, but I also ask that they include this "About the Author" section with each article. The material contained in this article is for general information purposes only, and readers should consult licensed professionals before making any legal, business, financial, or health decisions. I encourage you to follow me on social media on Facebook and Twitter, and anyway that you can share these articles with others is definitely a great help. These are such troubled times, and people need hope. John 3:16 tells us about the hope that God has given us through Jesus Christ: "For God so loved the world, that he gave his only begotten Son, that whosoever believeth in him should not perish, but have everlasting life." If you have not already done so, I strongly urge you to invite Jesus Christ to be your Lord and Savior today.
Originally Posted at www.shtfplan.com