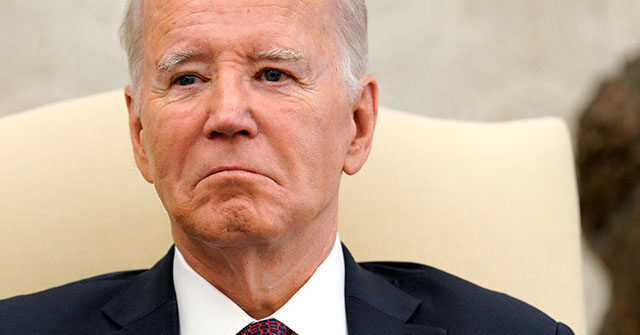 President Joe Biden's approval rating sunk eleven percentage points among Democrats in just over one month amid destabilization in the Middle East, a Gallup poll published Thursday found.
Biden's approval among his party plummeted from 86 percent to a record low of 75 percent, as the Democrat party struggles with large swaths of support for Palestinians, many of whom sympathize with the Hamas terrorists, Axios reported:
Biden is at risk of alienating members of his own party with his unequivocal support for Israel, which has carried out a weeks-long bombardment and total siege of Gaza in response to Hamas' Oct. 7 terrorist attacks.

An annual Gallup poll conducted in February found that Democrats sympathized more with Palestinians than Israelis for the first time in the survey's two-decade history.

The divide is particularly stark between generations: Less than half (48%) of Gen Z and millennials believe the U.S. should publicly voice support of Israel, according to a recent NPR/PBS NewsHour/Marist poll.
WATCH – Fearful Pro-Israel Students Allegedly Stuck in Library Surrounded by Angry Pro-Palestinian Mob:
Biden remains a steadfast supporter of Israel's defensive measures against Hamas. Hamas' terror attack killed at least 1,400 Israelis and resulted in more than 200 kidnappings.
"In this moment, we must be crystal clear. … The United States has Israel's back. We will make sure the Jewish and democratic state of Israel can defend itself today, tomorrow — as we always have," Biden said on October 10.
Biden's tough position against Hamas contrasts his support of Palestinian aid, which critics claim could fall into the hands of Hamas.
The controversial Palestinian aid did not stave off a sharp drop in support for the president. Biden's overall approval fell four points to 37 percent, according to the poll. Only 35 percent of independents approve of Biden, compared to just five percent of Republicans.
The poll sampled 1,009 adults from October 2-23 with a 4-point margin of error.
Follow Wendell Husebø on Twitter @WendellHusebø. He is the author of Politics of Slave Morality.
Originally Posted at : www.breitbart.com