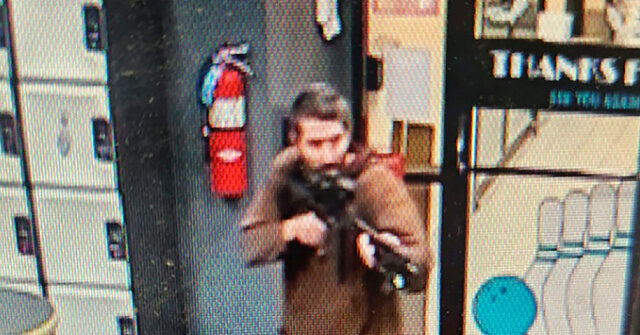 At least 22 people were reportedly killed Wednesday in separate alleged shootings in Lewiston, Maine.
Update: The Sun Journal and CNN are now reporting that there were only two shooting locations: Sparetime Recreation and Schemengees Bar & Grille.
The Sun Journal reported that the first shooting occurred at Sparetime Recreation shortly after 7 p.m. and the second at Schemengees Bar & Grille Restaurant.
A third shooting reportedly occurred at a Walmart Distribution Center about one hour after the Sparetime Recreation shooting.
NBC News listed the fatalities at 22, with "dozens wounded."
Police are looking for a "suspect for identification," allegedly armed with a rifle.
The Androscoggin County Sheriff's Office posted photos of the suspect being sought:
BREAKING: Androscoggin County Sheriff's Office releases suspect photo in Lewiston, Maine 'active shooter' investigation; seeking public help to identify individual in these photos pic.twitter.com/Mibq5I2WFg

— Steve Bottari (@WMURSteve) October 26, 2023
Police are asking the public to help identify the suspect in the photos.
AWR Hawkins is an award-winning Second Amendment columnist for Breitbart News and the writer/curator of Down Range with AWR Hawkins, a weekly newsletter focused on all things Second Amendment, also for Breitbart News. He is the political analyst for Armed American Radio and a Turning Point USA Ambassador. He was a Visiting Fellow at the Russell Kirk Center for Cultural Renewal in 2010, a speaker at the 2023 Western Conservative Summit, and he holds a Ph.D. in Military History, with a focus on the Vietnam War (brown water navy), U.S. Navy since Inception, the Civil War, and Early Modern Europe. Follow him on Instagram: @awr_hawkins. You can sign up to get Down Range at breitbart.com/downrange. Reach him directly at awrhawkins@breitbart.com.
Originally Posted at : www.breitbart.com