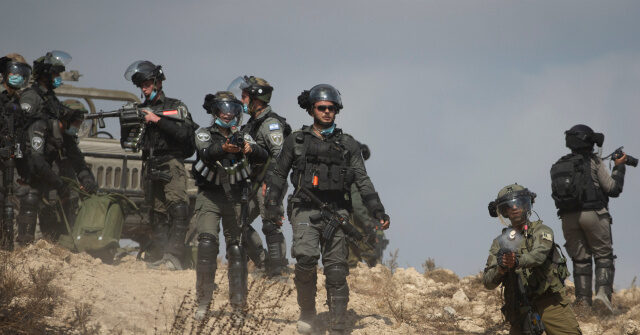 Large swaths of the National Security Agency, the agency in charge of collecting foreign signals intelligence for the Department of Defense, went from normal shifts to 24 hour watches earlier this month amid preparation for Israel's ground offensive in Gaza, two sources told Breitbart News.
The staffing change, which occurred the first weekend after the October 7 terrorist attacks in Southern Israel by Hamas, was to support Israel as they prepared to invade Gaza, but also to monitor threats against U.S. forces in the region.
The new posture will last for at least four months, one source said.
Similar staffing changes occurred during the Afghanistan withdrawal, and when President Donald Trump ordered a strike against Iranian Revolutionary Guard Corps' Quds Force leader Qasem Soleimani.
According to one source, the U.S. government and Central Command are under the working assessment that Israel could launch its offensive into Gaza "any hour," and that Lebanese Hezbollah could also "act any minute" against Israel, opening up another front in the war and putting Americans in Lebanon at risk.
Pentagon officials say they are concerned about an escalation of attacks against U.S. troops after Israel begins its offensive.
"We are concerned about escalation based on, you know, you've seen several groups throughout the region publicly say, 'Hey, you know, if there is a ground incursion, we are going to scale up our attacks,'" Pentagon Press Secretary Air Force Brig. Gen. Pat Ryder said Monday during a press conference.
Iranian-proxy forces have stepped up their attacks against U.S. bases in Iraq and Syria over the last week, with 16 separate rocket and drone attacks between October 17 and 26. In addition, Iran-proxy forces in Yemen fired five Iranian-provided cruise missiles and launched 30 drones towards Israel. On Thursday, Ryder said there was an additional attack against U.S. forces in Iraq earlier that day.
The Pentagon on Wednesday confirmed that 21 U.S. troops were injured in just two days of drone attacks at bases in Iraq and Syria between October 17 and 18. Although all members returned to duty, the Pentagon cautioned that some members might later report injuries, such as traumatic brain injury, so the numbers may change.
So far, there have been no military deaths as a result of the attacks against the U.S. facilities, but an American contractor died in Iraq after suffering a heart attack while sheltering in place.
The previously-unreported increased posture at NSA are in addition to a number of steps the Pentagon is taking in anticipation of more attacks against U.S. forces.
On Thursday, the Pentagon announced that approximately 900 U.S. troops were in the process of deploying to the region from the U.S. Ryder said the troops were not deploying to Israel.
Over the weekend, Defense Secretary Lloyd Austin announced he was moving the USS Dwight D. Eisenhower Carrier Strike Group to the Central Command area of responsibility (AOR), in addition to having the USS Gerald Ford Carrier Strike Group in the Eastern Mediterranean Sea.
He also ordered the deployment of a Terminal High Altitude Area Defense (THAAD) battery and additional Patriot battalions to the region, and finally, put an "additional number" of U.S. forces on prepare-to-deploy orders to ensure a "rapid response" if required. A senior military official said the forces are "largely Command and Control units" that would give leaders options for various missions for forces who are already stationed in the region.
The Washington Post reported that the Biden administration is preparing for the possibility that "hundreds of thousands of American citizens" will require evacuation from the Middle east if the "bloodshed in Gaza" cannot be contained, particularly those living in Israel and Lebanon.
The Pentagon has attributed the escalation of attacks against U.S. forces to Iran.
"We've seen rocket and [unmanned aerial vehicle] attacks against bases housing U.S. personnel in Iraq and Syria. And what you've heard from the president, from Secretary Blinken, from Secretary Austin, and many of the spokespeople across the U.S. government is our concern about the escalation of these attacks in the days ahead," a senior defense official at a Pentagon briefing on Monday.
"We see a prospect for much more significant escalation against U.S. forces and personnel in the near term. And let's be clear about it, the road leads back to Iran. Iran funds, arms, equips and trains militias and proxy forces, all across the region that have consistently undermined the stability, cost in civilian life, and at a cost the entire region of security and stability," the official added.
Biden himself and officials across his administration have warned actors in the region not to widen or take advantage of the conflict between Israel and Hamas.
Biden said while in Israel on October 18 — just after the spate of attacks against U.S. bases that injured the 21 troops began, "My message to any state or any other hostile actor thinking about attacking Israel remains the same as it was a week ago: Don't. Don't. Don't."
However, the message appears to have been ignored.
The day after that warning, Houthi forces launched the missile and drone attacks towards Israel, and just Tuesday, rockets were launched from Syria at Israel's Golan Heights. And according to the Jerusalem Post on Tuesday, a terrorist cell fired anti-tank missiles at Israel from within Lebanon.
Breitbart News reached out to the NSA for a comment and did not receive an immediate response.
This story has been updated.
Originally Posted at : www.breitbart.com