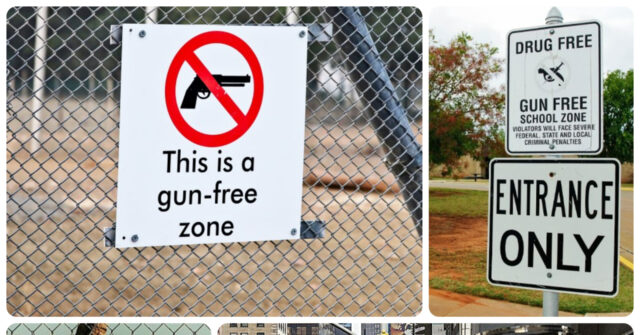 The bowling alley where Robert Card allegedly shot and killed 7 people has a sign on the front door announcing the premises are gun free.
The location, formerly called Sparetime Recreation, is now called Just-in-Time Bowling Alley.
John Lott Jr.'s Crime Prevention Research Center (CPRC) noted that the sign says, "We kindly ask that you refrain from bringing firearms in this building and we would appreciate it if you left them in your vehicle. Please keep our atmosphere family friendly."
The Just-in-Time Bowling Alley in Lewiston, Maine, where Robert Card murdered 7 people on Wednesday, was a Gun-free Zone; the Schemengees Bar & Grille was likely also a Gun-free Zone.https://t.co/bv9RlVzBDI#2a #gun #guns #GunFreeZone #GunFreeZones #GunControlNow #guncontrol pic.twitter.com/XhA6lcOHLP

— John R Lott Jr. (@JohnRLottJr) October 27, 2023
Card allegedly shot and killed one woman and six men inside the gun-free bowling alley on Wednesday night.
CPRC pointed out that only "about 6% of the mass public shootings occur in places where guns are allowed." Gun-free zones and far and away attackers' favorite places to strike.
On July 27, 2022, Breitbart News reported that during Congressional testimony, Gun Owners of America's (GOA) Antonia Okafor said, "94 percent of mass shootings occur in gun-free zones."
Breitbart News fact-checked Okafor's statement and found it to be true, when "gun-free zones" are defined as "places where where general citizens couldn't carry guns."
AWR Hawkins is an award-winning Second Amendment columnist for Breitbart News and the writer/curator of Down Range with AWR Hawkins, a weekly newsletter focused on all things Second Amendment, also for Breitbart News. He is the political analyst for Armed American Radio and a Turning Point USA Ambassador. He was a Visiting Fellow at the Russell Kirk Center for Cultural Renewal in 2010, a speaker at the 2023 Western Conservative Summit, and he holds a Ph.D. in Military History, with a focus on the Vietnam War (brown water navy), U.S. Navy since Inception, the Civil War, and Early Modern Europe. Follow him on Instagram: @awr_hawkins. You can sign up to get Down Range at breitbart.com/downrange. Reach him directly at awrhawkins@breitbart.com
Originally Posted at : www.breitbart.com