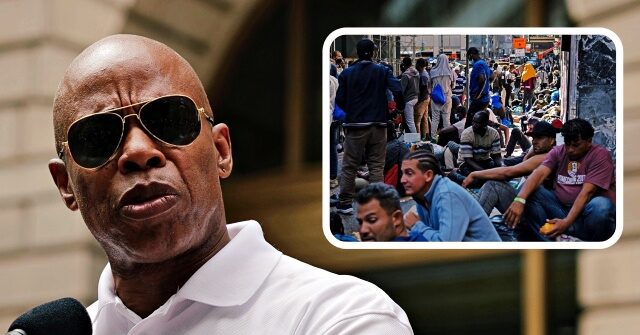 New York City Mayor Eric Adams (D) is yet again warning that illegal immigration is "devastating" the city and will "hurt" New Yorkers as a result.
During a town hall meeting, Adams said New York City, a sanctuary jurisdiction that refuses to cooperate with the Immigration and Customs Enforcement (ICE) agency, is "at a breaking point" because of illegal immigration; more than 160,000 border crossers and illegal aliens have arrived since the spring of 2022.
"We're at the breaking point," Adams said. "There is no more room, over 160‑something thousand; and as I stated, we're getting anywhere from 2,500 to 4,000 a week … this is so devastating for our city."
NYC Mayor Eric Adams comments on the migrant crisis in NYC

" This is Devastating For Our City"pic.twitter.com/rtEyudXnTO

— Viral News NYC (@ViralNewsNYC) October 30, 2023
This is only the latest time Adams has warned would-be illegal aliens not to come to New York City, though the campaign has failed to return results.
Earlier this month, Adams said illegal immigration "is not sustainable" and that New Yorkers would soon "see the visual of running out of room … people are going to be sleeping on our streets."
Illegal aliens, though, have continued to flow into the sanctuary city. Some have told the Daily Mail that they "don't care" if New York City is crowded because they are resettling in the Big Apple anyway.
This week, the New York Times detailed how New York City continues to be the biggest destination for border crossers and illegal aliens, even as Adams has attempted to tell those in Mexico and Central America to choose another city.
Monthly, President Joe Biden's administration is releasing about 60,000 border crossers and illegal aliens into the United States interior. Tens of thousands are ending up in New York City every month.
John Binder is a reporter for Breitbart News. Email him at jbinder@breitbart.com. Follow him on Twitter here.
Originally Posted at : www.breitbart.com