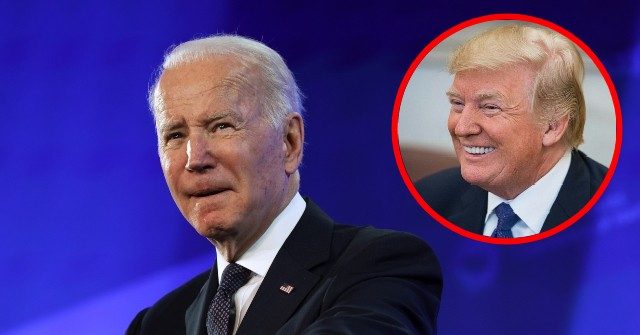 Former President Donald Trump tops His Fraudulency Joe Biden in five of six crucial swing states, per polling from the far-left New York Times.
Let's get right to the numbers…
Nevada – Trump +11
Trump: 52 percent
Biden: 41 percent
Arizona – Trump +5
Trump: 49 percent
Biden: 44 percent
Pennsylvania – Trump +4
Trump 48 percent
Biden: 44 percent
Georgia – Trump +6
Trump: 49 percent
Biden: 43 percent
Michigan – Trump +5
Trump: 48 percent
Biden: 43 percent
Wisconsin – Hunter's Dad +2
Trump: 45 percent
Biden: 47 percent
The left-wing profiteers and warmongers in NeverTrump are already in a panic:
It's time.

President Biden has served our country well. I'm confident he'll do so for the next year.

But it's time for an act of personal sacrifice and public spirit.

It's time to pass the torch to the next generation.

It's time for Biden to announce he won't run in 2024.

— Bill Kristol (@BillKristol) November 5, 2023
Biden (allegedly) won all five of these states in 2020, so normally, I would be pretty skeptical of an 11-point lead in a blue-ish state like Nevada. But with Nevada (and Arizona) being a border state and Biden opening the southern border to millions of unvetted illegals hailing from the third world, I'm a lot less skeptical of those results.
This polling, like all the polling that has Trump doing better this year against Biden than he ever did in 2020, shows that Biden's un-American attempt to put Trump in prison has failed and even backfired.
"You Think Biden Can Do That?" Trump Autographs Combine During Visit with Farmers in Iowa
Margo Martin via Storyful
"Biden is trailing Donald J. Trump in five of the six most important battleground states one year before the 2024 election, writes DNYUZ. Biden is "suffering from enormous doubts about his age and deep dissatisfaction over his handling of the economy and a host of other issues[.]"
On the age issue, only 19 percent of Trump supporters and 39 percent of all those polled said 77-year-old Trump is too old to be president.
But.
A massive majority of the electorate, 71 percent, said 80-year-old Biden is too old, including 54(!) percent of Biden's own dumb supporters. Nearly two-thirds, 62 percent, say (accurately) that Biden lacks the "mental sharpness" to be an effective chief of state.
On specific issues that generally drive a presidential election, Trump tops Biden by double digits.
McCarthy Schools Reporter: "Biden Has Destroyed America," We Had "Victory After Victory" Under Trump
Speaker Kevin McCarthy
By 22(!) points — 59 to 37 percent — Trump tops Hunter's Dad on who would better handle the economy. On immigration, Trump is +12 over Biden, Same with national security. On handling the current Israeli conflict, voters trust Trump by +11.
On national security, Men chose Trump by nearly 30 points — 62 to 33 percent. Among women, Biden is up only by a single point: 47 to 46 percent.
As far as the issue of personality….
Today, the degree to which voters are turned off by Mr. Trump's personality and bombast — which has been the glue helping keep together a fractious Democratic coalition for years — appears to have waned. Only 46 percent of voters said Mr. Biden had the proper temperament to be president, barely higher than the 43 percent who said the same of Mr. Trump.
These polls feel important because 1) Biden (allegedly) won all five of these states in 2020 and 2) this same pollster (New York Times/Siena) never had Trump beating Biden in any of these states in 2020.
In Arizona, the New York Times/Siena poll showed Trump down three to nine points in 2020.
In Michigan, the New York Times/Siena poll showed Trump down by as much as 11 points in 2020.
In Pennsylvania, the New York Times/Siena poll showed Trump down six to ten points in 2020.
In Georgia, the New York Times/Siena poll showed Trump and Biden tied in 2020.
In Nevada, the New York Times/Siena poll showed Trump down six points in 2020.
New York Times pollster Nate Cohn is looking pretty nervous this morning:
"The poll finds Biden is pretty badly damaged, but that there's still a path for Democrats to win," Cohn tweeted Sunday morning. "Put it together: it's easy to see this race shifting if Biden can reenergize these folks," Cohn adds. "There's no reason this is 'predictive.' But I think the sample is 'representative,' and the Biden challenge is very real and very serious."
If these polls do prove "predictive, Trump is in landslide territory.
We have a long way to go, and it would not be out of character for the far-left Times to fabricate these polls to try and force Biden to reverse course on his decision to seek reelection. But almost all pollsters show Trump polling better against Biden in a potential 2024 rematch… And it sure is fun watching warmongers like Bill Kristol sweat through his ill-fitting suits.
John Nolte's debut novel Borrowed Time (Bombardier Books) is available today. You can read an exclusive excerpt here and a review of the novel here.
Originally Posted at : www.breitbart.com