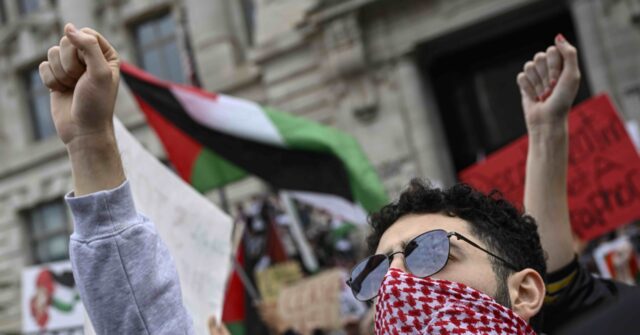 The pro-Palestinian rallies in major cities and on university campuses around the world, which have celebrated the Hamas attack of October 7 and called for the elimination of Israel, have shocked public opinion and frightened local Jewish communities.
But the rallies, which are closely covered by Israeli media, have also strengthened Israel's resolve to fight: they have convinced Israeli Jews that if they were, somehow, to give up, and allow their country to become "Palestine," there would be nowhere else to go.
A central belief of the pro-Palestinian movement is that Israel's Jews — some seven million people — should leave the region and go back to wherever they supposedly came from.
It is an idea that ignores the fact that Jews are the indigenous people of the land and have lived there for thousands of years, even during periods of dispersion and exile. It also ignores the fact that many Jews came to the region to flee persecution in Europe and in the Arab and Muslim world, when no other country would take them in.
Still, the belief that Jews can be frightened or pressured into leaving persists. Recent talking points for the Students for Justice in Palestine protests on university campuses in the aftermath of the October 7 attack — and before the Israeli military response — expressed delight in the images of Israelis running for their lives: "Settlers are already fleeing the land, their 'dedication' to the settler colony is easily broken."
The opposite, in fact, was true, as Israeli reservists flocked home to take up arms for their country.
But if pro-Palestinian activists hope terror causes Israelis to flee, their own words and actions — in London, in Los Angeles, in Australia, and elsewhere — have shown, at best, a total indifference to the murders of Jewish civilians, and at worst a vicious antisemitism that many people thought had been left behind in the 20th century.
Israelis, seeing that, understand that they must fight, and win.
In that way, the pro-Palestinian, pro-Hamas protests, hateful though they are, are helpful to the Zionist cause.
Joel B. Pollak is Senior Editor-at-Large at Breitbart News and the host of Breitbart News Sunday on Sirius XM Patriot on Sunday evenings from 7 p.m. to 10 p.m. ET (4 p.m. to 7 p.m. PT). He is the author of the new biography, Rhoda: 'Comrade Kadalie, You Are Out of Order'. He is also the author of the recent e-book, Neither Free nor Fair: The 2020 U.S. Presidential Election. He is a winner of the 2018 Robert Novak Journalism Alumni Fellowship. Follow him on Twitter at @joelpollak.
Originally Posted at : www.breitbart.com