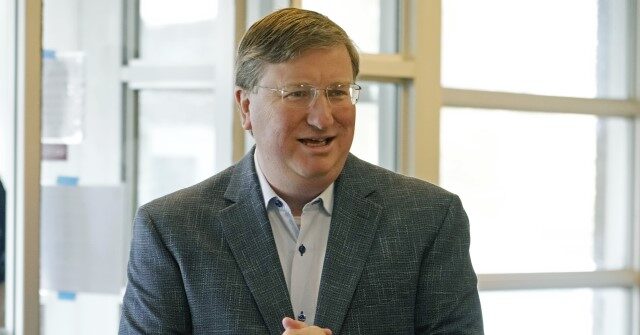 Mississippi Gov. Tate Reeves (R) won reelection on Tuesday, giving him a second term as the leader of the Magnolia State, according to projections.
Tates faced a competitive race against Brandon Presley, a Democrat and elected public utilities commissioner. Presley is also the second cousin of rock-and-roll legend Elvis Presley.
On Monday evening, Trump held tele-rallies with Kentucky's Cameron and Mississippi's Reeves where he encouraged voters in both states to back them on Tuesday.
"They're trying to get Brandon Pressley into office so they can force their extreme agenda of open borders and gender ideology down the throats of people from Mississippi, and we're not going to let that happen," Trump said. "Tate Reeves has my complete and total endorsement. This is your chance to send a message to Crooked Joe Biden."
"Heading into Election Day, Reeves told voters that Mississippi had momentum with job creation, low unemployment, and improvements in education. He said liberal, out-of-state donors to Presley's campaign were trying to change Mississippi," the Associated Press reported.
"For you to believe Brandon Presley in anything that he says, you've got to believe that everything in Mississippi is bad," Reeves said last week during a debate with Presley.
Presley made Medicaid expansion central to his campaign, which caused significant controversy among Mississippi hospital groups. Many members of the Mississippi Hospital Association canceled their membership after it donated $250,000 to Presley's campaign.
Reeves has argued against the expansion of Medicaid.
"I have not changed my position on the expansion of Obamacare. Adding 300,000 additional people to welfare in our state is not the right path for Mississippi," he said in April.
Presley said, "We've turned back billions of dollars in Mississippi. Not because of policy. Only reason we've turned down federal dollars for health care in Mississippi is petty, partisan, cheap politics."
The brouhaha between the hospitals and the Mississippi Hospital Association follows the Presley campaign's boast that it raised more in its first reporting period for the 2023 election cycle than any other Democrat candidate for governor in Mississippi ever has. Although it has raised a significant campaign treasure trove, it still pales in comparison to Reeves' campaign.
Sean Moran is a policy reporter for Breitbart News. Follow him on Twitter @SeanMoran3.
Originally Posted at : www.breitbart.com