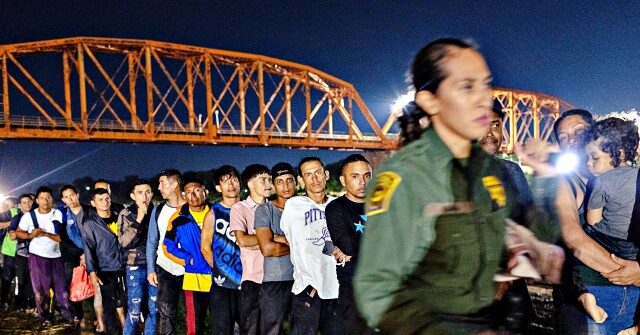 Sen. Josh Hawley (R-MO) is demanding a federal probe into whistleblower allegations that President Joe Biden's Department of Homeland Security (DHS) is providing sandwiches to illegal aliens instead of investigating child exploitation at the United States-Mexico border.
In a letter to DHS Inspector General Joseph Cuffari, Hawley writes that he wants "an immediate investigation into whistleblower allegations that the DHS has shut down or delayed investigations into child exploitation and other crimes in order to transfer hundreds of special agents to process illegal immigrants at the southern border."
Specifically, the whistleblowers claim that Biden's DHS is pulling agents off criminal investigations and having them make sandwiches for illegal aliens.
Hawley detailed the whistleblower allegations:
On October 31, 2023, I questioned Secretary of Homeland Security Alejandro Mayorkas before the Homeland Security and Governmental Affairs Committee (HSGAC) regarding whistleblower allegations that he removed 600 Homeland Security Investigations (HSI) special agents from felony investigations to facilitate immigration processing functions at the southern border. According to the whistleblower, agents "are being told to shut down investigations to hand out sandwiches and escort migrants to the shower." This led to child exploitation suspects and fentanyl dealers evading indictment, including child molesters. When asked whether special agents had been pulled away from cases and reassigned to the border, Secretary Mayorkas testified, "Combatting the fight against fentanyl, yes." [Emphasis added]

Following the hearing, three more whistleblowers from across the country contacted my office, corroborating these claims. One alleged that Secretary Mayorkas was "absolutely lying" and that agents were not, in fact, being reassigned to investigate fentanyl cases. The whistleblower corroborated the claim that there have been at least 600 agents at a given time reassigned to the border. A third whistleblower claims that he was also reassigned to the border to "babysit" illegal immigrants; his duties included holding doors for private contractors who prepared the sandwiches for illegal immigrants, who were "fed better than my kids." A fourth whistleblower confirmed that special agents had been pulled off child exploitation investigations. According to some of the whistleblowers, much of their time was spent on "stand-by," as offices at the border were not expecting their arrival. [Emphasis added]

Most concerningly, all the whistleblowers allege that important criminal investigations stalled and suspects were not arrested or indicted as a result of these reassignments. Agents were pulled from investigations ranging from child exploitation to drug trafficking to counterterrorism. One whistleblower was pulled from child exploitation cases "that haunt your soul when you aren't available and able to ensure the children involved aren't being abused." Another whistleblower alleges that hands-on child molesters were not arrested and further provides specific examples of child exploitation indictments that were delayed or adversely affected due to these reassignments. [Emphasis added]
Specifically, Hawley is asking Cuffari how many DHS agents have been reassigned to help bring illegal aliens into the U.S. interior and how many of those agents were subsequently required to hold off on investigations into criminal activity and child exploitation.
An estimated six million border crossers and illegal aliens have been welcomed into American communities since Biden took office in late January 2021 — including nearly two million known so-called "got-aways," those illegal aliens who successfully crossed the border.
EXCLUSIVE: 1,500 Migrants Cross Border into Texas in Six Hours
Randy Clark/Breitbart Texas
John Binder is a reporter for Breitbart News. Email him at jbinder@breitbart.com. Follow him on Twitter here.
Originally Posted at : www.breitbart.com