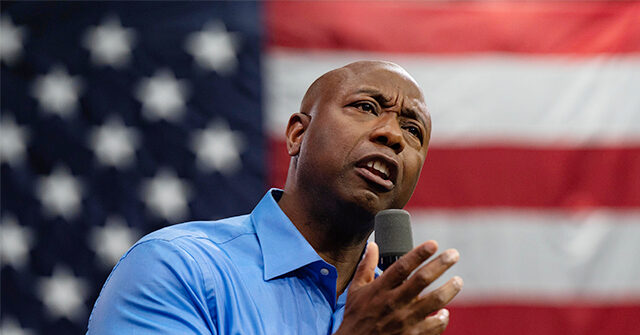 Sen. Tim Scott (R-SC) has dropped out of the 2024 presidential race after failing to pick up steam over the course of several debates.
Scott made his decision to suspend the presidential campaign known during an appearance on former Rep. Trey Gowdy's (R-SC) Fox News show.
"When I go back to Iowa, it will not be as a presidential candidate. I am suspending my campaign," Scott said.
"I think the voters, who are the most remarkable people on the planet, have been really clear that they're telling me: not now," Scott continued.
The senator said that he does not wish to endorse any of his opponents at this time.
"I'm going to recommend that the voters study each candidate and their candidacies and frankly, their past and make a decision for the future of the country," Scott said. "The best way for me to be helpful is to not weigh in on who they should endorse."
According to NBC News, Scott's campaign and an allied Super PAC "spent nearly $25 million on ads in Iowa and other early states promoting him as an optimistic conservative."
Scott's primary message had been centered on debunking the woke leftist understanding of race in America, portraying the black and brown experience as one of constant oppression with little to no chance for success. Vox described it thusly this past June:
Scott's stance on race is a central part of a strategy that differentiates him from his fellow presidential hopefuls, one centered on an optimistic vision rather than on the country's political and cultural divides. The question is whether Scott's optimism can break through what is already proving to be an ugly primary.
During an appearance on The View earlier this year, Scott said that leftists had been pushing forward a backward idea "that the only way for a young African American kid to be successful in this country is to be the exception and not the rule."
"That's a dangerous, offensive, disgusting message to send," he added.
Tim Scott did, however, admit that "both sides of the aisle can do a better job on the issue of race."
During the recent presidential debate in Miami, Florida, Tim Scott adopted a hawkish foreign policy stance by saying the Russian military should be destroyed.
"Bottom line is, we have to first have the level of accountability that allows the American people to understand where the resources have gone, number one," he said. "Number two: after we have that responsibility taken care of and accountability, then we have an opportunity to look at the overall strategy that helps us degrade the Russian military while we use our resources."
"Frankly, keeping our NATO partners safe from the Russian military is absolutely essential," he added.
Paul Roland Bois directed the award-winning feature film, EXEMPLUM, which can be viewed for FREE on YouTube or Tubi. A high-quality, ad-free stream can also be purchased on Google Play or Vimeo on Demand. Follow him on Twitter @prolandfilms or Instagram @prolandfilms.
Originally Posted at : www.breitbart.com