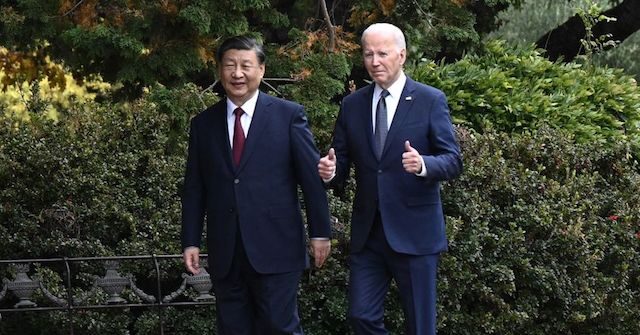 President Joe Biden and Chinese dictator Xi Jinping had their much-touted face-to-face meeting in San Francisco on Wednesday, spending about four hours dining and walking the grounds at the historic Filoli estate.
The two major outcomes touted by the White House were that Xi agreed to resume U.S.-China military communications and to help reduce production in China of the deadly drug fentanyl.
The White House did not portray the meeting as a summit, which would have entailed a longer list of accomplishments and a joint statement.
Watch: #XiJinping and Joe Biden have one-on-one talks at Filoli Estate. #ChinaUS

Live updates: https://t.co/OlS69jIXq9 pic.twitter.com/eD7dKZSdie

— CGTN (@CGTNOfficial) November 16, 2023
Biden and Xi gave a joint press conference from the Filoli estate before their talks, but it consisted mostly of diplomatic pleasantries, with the two leaders talking about how long they have known each other, how much they value each other's candor, and how important the relationship between the United States and China is to the rest of the world.
Pointing to a photo in his phone with the Golden Gate Bridge in the background, President Biden asked President Xi, "Do you know this young man?" "Oh yes," said President Xi, "this was 38 years ago."🌞 pic.twitter.com/r65Em6Z7oS

— Hua Chunying 华春莹 (@SpokespersonCHN) November 16, 2023
Xi used his remarks at the press conference to press China's view that the coronavirus pandemic – which he refused to take responsibility for – is over and the worldwide economy is "sluggish."
"Industrial and supply chains are still under the threat of interruption and protectionism is rising. All these are grave problems," Xi said, as though he were not the autocratic ruler of one of the most protectionist economies in the world.
"For two large countries like China and the United States, turning their back on each other is not an option. It is unrealistic for one side to remodel the other, and conflict and confrontation has unbearable consequences for both sides," Xi said, pushing China's narrative that decoupling from its economy is unthinkable.
Biden administration officials fanned out across the media after Biden and Xi spoke, managing expectations while touting the agreement to restore military communications and Xi's pledge to do more about fentanyl as major accomplishments.
China cut off military communications after former House Speaker Nancy Pelosi visited Taiwan in August 2022. Ahead of the Biden-Xi meeting, White House officials talked up Biden's determination to restore the deconfliction line, and on Wednesday the administration played up Biden overcoming Xi's "reluctance" by telling him how "absolutely critical" it was to get American and Chinese military officials talking again.
The administration said Biden pointed to the Chinese spy balloon incident as an example of why communications are so important. During a strange conversation with his donors in June, Biden claimed Xi did not personally know about the spy balloon and was somewhat embarrassed by the incident. Biden reportedly told Xi on Wednesday that reconnecting the military hotlines would help to prevent such misunderstandings in the future.
Officials in Beijing confirmed after the meeting that military communications will be resumed, including a face-to-face meeting between U.S. Secretary of Defense Lloyd Austin and whoever replaces Chinese Defense Minister Li Shangfu. Li disappeared without warning in August and was formally sacked on October 24.
The Biden administration also talked up Xi's agreement to crack down on Chinese companies that manufacture the precursor chemicals for fentanyl. The administration officials who talked to the media seemed slightly less enthusiastic about this accomplishment, tossing in caveats that the U.S. would carefully watch what China actually does about fentanyl over the next few months.
A few upbeat comments about the progress of the talks appeared on Biden's TWitter account over the course of the afternoon. "There are critical global challenges that demand our joint leadership. And today, we made real progress," one of the Biden posts said.
"I've just concluded a day of meetings with President Xi, and I believe they were some of the most constructive and productive discussions we've had," said another.
I've just concluded a day of meetings with President Xi, and I believe they were some of the most constructive and productive discussions we've had.

We built on groundwork laid over the past several months of diplomacy between our countries and made important progress. pic.twitter.com/0RT1q0FZHr

— President Biden (@POTUS) November 16, 2023
The administration claimed Biden delivered stern warnings to China about interfering with Taiwan's politics or threatening the island, but the Chinese Foreign Ministry quickly nixed that narrative by lecturing the U.S. to keep its nose out of Taiwanese matters.
"The U.S. side should take real actions to honor its commitment of not supporting 'Taiwan independence', stop arming Taiwan, and support China's peaceful reunification. China will realize reunification, and this is unstoppable," said Chinese Foreign Ministry spokeswoman Hua Chunying.
Administration sources claim Biden also pressed Xi to use his influence with Iran to "avoid steps that could be seen as provocative in the Middle East," as the Jerusalem Post put it.
This would most likely be a delicate reference to Iran's proxy forces in Iraq and Syria launching incessant rocket and drone attacks against American troops. The Biden administration pleaded with the Iraqi government to rein in its militia, to no avail, and then launched a few pinprick airstrikes against militia supply camps in Syria, which only seemed to make the attacks on U.S. forces increase.
In his post-meeting solo press conference on Wednesday night, Biden effusively thanked Xi for promising to combat fentanyl, and said the most "critically important" outcome of the afternoon talks was the resumption of military communications.
Biden also touted an agreement to control the use of military artificial intelligence, which has been criticized for giving away a significant American advantage in technology. He said he talked to Xi about China's aggressive behavior in the South China Sea, and China's unfair trade practices. Biden gave no indication of Xi's response to these criticisms.
Originally Posted at : www.breitbart.com